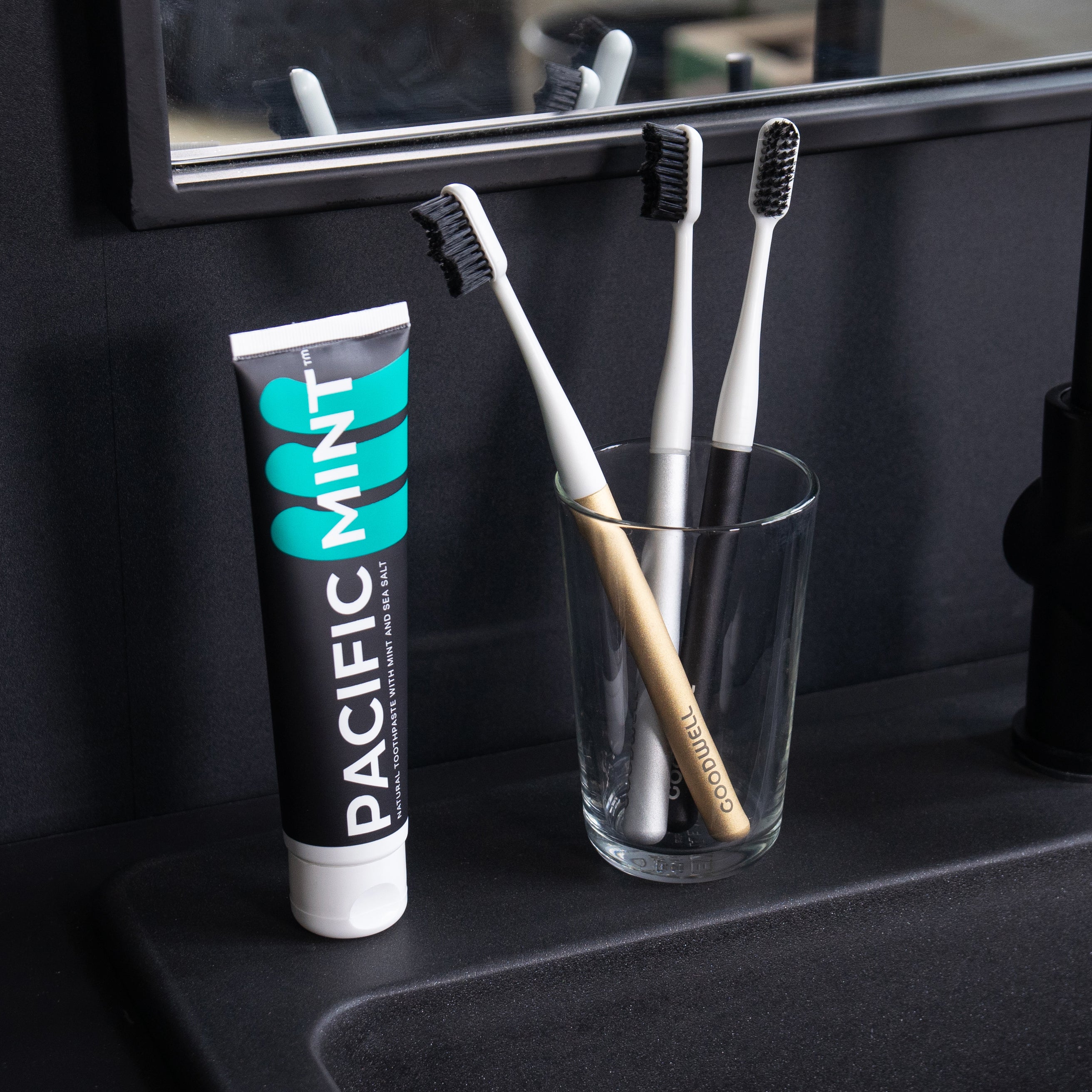 Being Good to the Planet with Goodwell
Plastic-free (and soon-to-be electric-free) oral hygiene
Everyone in the world brushes their teeth in one form or another. But plastic pollution is lasting, and each toothbrush we throw away, while seemingly minor, adds to this dilemma. But there's a company out there hoping to change that!

Goodwell Co. is an oral health company started by Patrick Triato, a design engineer based in Portland, Oregon. After a journey creating audio speakers, toys, electronics, medical devices and more, Patrick wondered how he could tackle the issue of sustainability in a new way. That industry would be Oral Health as he pondered over the consumption of plastic brushes. He wanted to change the relationship between people and their toothbrushes to be something more longer-lasting.

Toothbrushes have gone through an interesting history of design, from things such as chew sticks as early as 3,000 B.C. to hog bristles and bone in 619, or even now in their modern plastic frames and nylon bristles.

For the convenience and affordability of plastic toothbrushes, the downside is that the mixture of materials means your average toothbrush is nearly impossible to recycle. Many will go straight to the landfill—or worse places.



Around 850 million plastic toothbrushes make it to the landfill in the U.S. alone, and batteries from electric toothbrushes add into the mix of waste. If we took all the plastic toothbrushes thrown out each year, that would be enough to wrap around the Earth four times!

That's where Goodwell comes in with their range of brushes and oral health products.


The
Premium Toothbrush
($25) comes with a recycled aluminum handle (guaranteed for life) with a degradable brush head made of PLA bioresin with soft charcoal-infused bristles that can be replaced when needed. By only swapping the top out, this brush slashes waste contribution by 70%.
The
Bamboo Toothbrush
($7) is exactly what it sounds like. With a compostable bamboo handle, charcoal-infused bristles, and recyclable plastic-free packaging.
The last brush is Goodwell's latest in the making, the
Be. Brush
($85 pre-order), the world's first electric- and battery-free powered toothbrush! The Be. (beyond electricity) is powered purely by a few twists of the handle, giving it a good kick like any other electric toothbrush for two minutes before shutting off. It's not like anything else on the market! You can expect the same, degradable, replaceable bioresin head on this brush too.
When it's time to retire a toothbrush head, you can find them stocked at several retail locations across the U.S. such as New Seasons in Portland, Erewhon in Los Angeles, and Free People stores. Our favorite option is using
Goodwell's subscription bundles
, which will ship you products or brushes/brush heads at your frequency of choice.
We're loving all of these simple, stylish options at every price point so we can take care of our teeth while being kinder to Mother Earth.
Check them out here:
https://goodwell.co