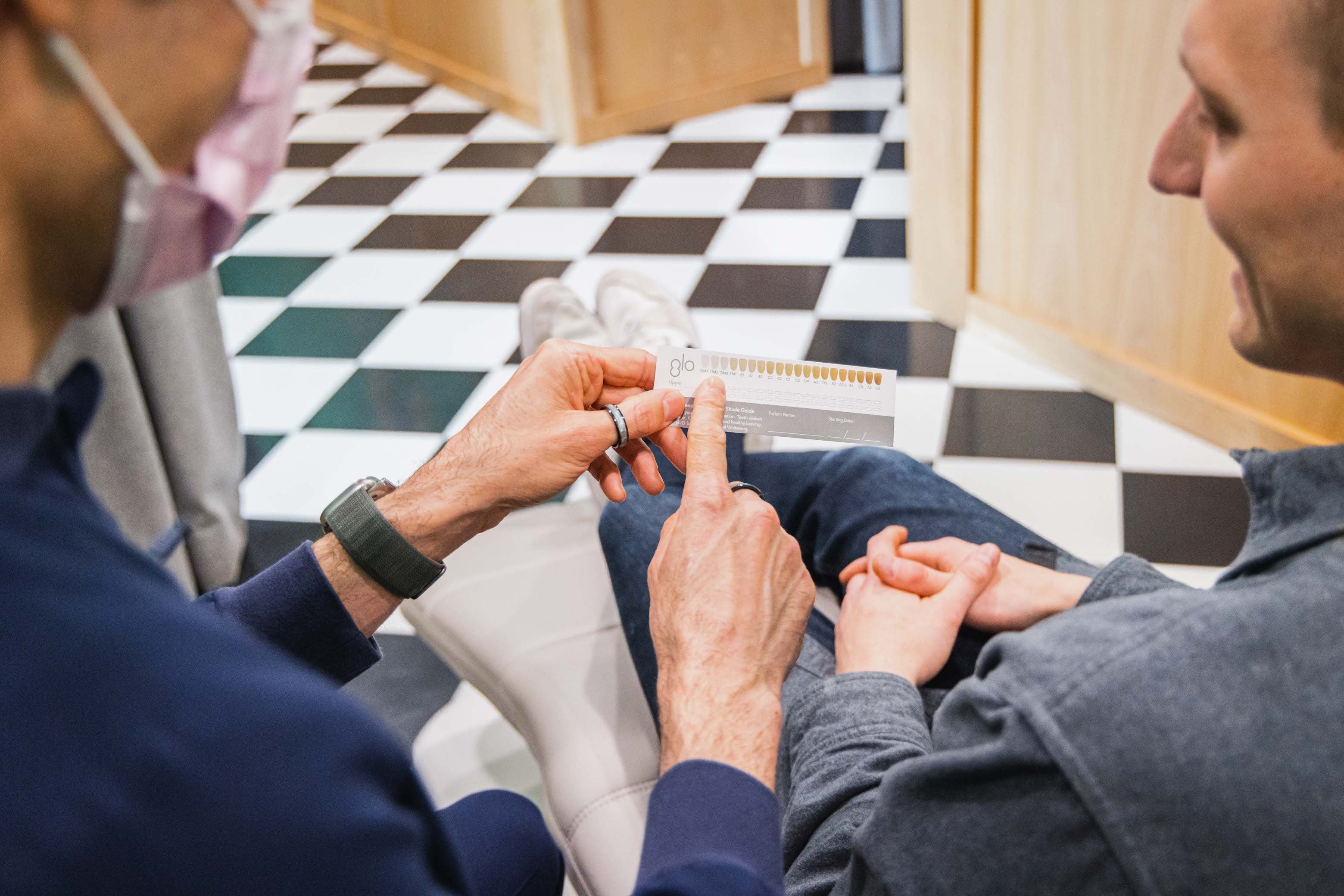 Gleamery Whitening & Glo Pro Power™ — The Sparkliest Smile, Made Easy
Learn more about how we use the innovative Glo Pro Power™ in our Whitening services to transform your smile.
Glo Pro Power™—the newest way to effortlessly whiten teeth without sensitivity 
We're excited to offer the newest whitening technology, Glo Pro Power™ by Glo Sciences for pain-free, professional, in-studio teeth whitening of 3+ shades in record time. Unlike traditional in-clinic whitening services, which can effectively cook your teeth at high temperatures, causing discomfort and sensitivity, The Gleamery uses the Glo Pro Power™ system, a combination of light and minimal heat (only as hot as a cup of coffee from Starbucks!) to whiten teeth with little to no sensitivity. Paired with the gentle and safe application by a Dental Hygienist, you're well on your way to your best smile yet.
The whitening process—step by step
With so much life happening on the daily, there's nothing like fast and easy results to boost your confidence and oral health while taking a relaxing 30 or 60 minute break from your day. Here is a step-by-step glimpse inside what to expect during a typical Teeth Whitening session at The Gleamery.
Your hygienist starts by documenting the initial teeth shade on Glo Pro's shade scale. This helps determine how much your teeth brightens after each treatment.


A dental pumice paste is applied to prep teeth enamel for proper absorption of whitening gel.


A cheek retractor is inserted, as gently as possible, to keep your mouth open during treatment. This looks really, really cool ;)


Here comes air! We dry your teeth and gums to ensure a clean surface before the next step.


The next step is applying the GLO gingival barrier to protect your gums. This goes on the top and bottom gum lines and is light cured to make sure it stays in place. We apply GLO lip balm now so there's no dryness or cracking on your lips during treatment.


The hard part is done! Now that your teeth are fully isolated and your gums and lips are protected, we then brush on the first round of whitening gel to your teeth.




The GLO mouthpiece is inserted into your mouth and whitening begins! There are two 8 minute sessions for  Glow Whitening (30min, $249) and four 8 minute sessions for Gleam Whitening (60 min, $299). During every 8 minute session, you can close your eyes and enjoy some peace and quiet.


Whitening is done! Clean up is quick and easy. The mouthpiece and cheek retractor are removed, remaining whitening gel is suctioned off, and the gingival barrier comes off too (so satisfying)!


After a thorough rinse and a Gleam Gloss fluoride polish (add-on), we grab the shade guide and mirror to check out your stunning results!



Depending on where you're at and where you'd like to be, your hygienist will work with you on a treatment plan to achieve or maintain the whitening results you want. 

Post whitening care
Be sure to avoid dark foods and liquids for 48 hours, including berries, red wine, coffee, matcha, dark liquor, marinara sauce, beets, etc. Stay away from extremely hot and cold foods for 48 hours because it can possibly cause sensitivity. Lastly, drink everything through a straw to bypass your front teeth! 
Check out this blog post for additional ways for how to keep teeth bright in between whitenings at The Gleamery. 
With Glo Pro Power™, Brighten as often as monthly, however we recommend clients come in ever 3-6 months to maintain and boost the effects of whitening. We also recommend our Cleaning + Whitening  sessions for cleaning prior to whitening which is a winning combo! 
Tags: teeth whitening, whiten teeth, dental whitening, glo pro power, glo sciences, glo pro, in-office teeth whitening